Modern art
between recycling
and global
eclecticism

home
194O born in Vienna
/ Austria/
youth in Innsbruck/ Tirol
[X•X-DE]

1962-64 stays in Sweden/ Stockholm/
architecture training
In 1967 architecture certificate of the
Technical University of Vienna
In 1966 first pictures/ tachisme

1969-83 free lance architect
[XX-
DE
]
in Berlin-West : drafts for development
projects/ independent consultant
of the "Berliner Bau-Senat".
1973-75 second domicile in Greece.
In 1978 stay on the New Hebrides/ Pacific.
Collaboration in the realization
of an ethnographic feature
[X•X-
DE
],
[X•X],
.
In 1979 stay in Ireland/ Belfast

Since 1975 independent research in
the area of cosmogenetic cycles
[X•X]

Transcription into a visual and acting
language in the spirit of a holostic
psychologie (Gestalt-psychologie) for use
in alternative medicine and psychology.
Seminars and Workshops in Germany:
198O-83 in Berlin
1983-88 in Passau/ East Bavaria
1987 stay in Switzerland/ Bern
1988-92 in Butjadingen/ East Friesland
Since 2000, working on the "kosmogen"
Time-Analysis.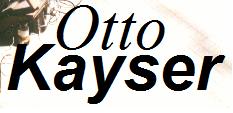 www.kayserotto.com
Otto Kayser

EN
In 1991-2007 residens in Southwest France/Gers. In 1993 stay in Thailand and the Philippines.
1995-2000 artistic activity
[XX]
about 25 exhibitions in the region Midi-Pyrénées (Gers, Toulouse)/ Nîmes/ Germany

Between 2008-13 Travelling around the Europaen Union, Marocko and Turkie carring on my astrological research and consultungs by internet.
In 2015 creating and developping the Thracian Horoskop. For more information tip on the right picture >>>>


.
|▲
► Portrait|
www.kayserotto.com
© Otto Kayser

(Otto Kayser, OttoKayser,
Otto Kaiser, Kayser Otto,
KayserOtto, kosmogen,
cosmogen, cosmogene,
cosmogène)
|▼
► Portrait |
DEutsch
EN
glish
FR
ançais

Navigation / link meaning

▲ = to the top of the page
▼ = down to the end of page
[X] =
linked area
[X•] =
column/ frame at right
[•X] =
column/ frame at left
[••X] =
back to the starting point
[XX] =
to an other page
[X•X] =
to an outside Web page
[•] =
to a page of archives
---
Art

[XX] Life story/ résumé
[XX] Portrait
[•] Archives

[X•X] kosmogen
= cosmogenetic cycles
www.kayserotto.com